Why Should You Gift a Vanity Table to Your Beloved Her? | CAROEAS
, by Sofia fu, 4 min reading time
Creating a Personal Sanctuary
A vanity becomes her private sanctuary, a space that truly belongs to her, reflecting her individuality and preferences. In this personal space, she can relax and indulge in self-care rituals, whether it's styling her hair, applying makeup, or simply sitting alone in contemplation. Gifting her a vanity table demonstrates your respect for her personal time and space, affirming her self-worth and making her feel loved and understood.
Symbol of Elegance
Dressing tables are often associated with elegance and sophistication. By presenting such a gift, you are admiring her graceful qualities and impeccable taste. It goes beyond the mere act of investing thoughtfulness; it reflects how she holds a special place in your heart. Each time she uses the vanity table, she will be enveloped in an ambiance of luxury and elegance. This not only brings joy to the start of her every day but also reminds her of her own sense of style and the deserving treatment she receives. This gift showcases your deep love and immense respect for her, making her understand how unique and important she is to you.
Supporting Her Interests
If she is passionate about makeup, beauty rituals, or having an organized and personalized space, a vanity table becomes an ideal gift. It subtly communicates your willingness to invest more time and effort in her skincare and beauty routines. You desire to see her grow more beautiful with each passing day, and every reflection in the mirror brings her satisfaction and confidence. This gift becomes an expression of your love for her and deepens her fondness for you. Not only do you support her interests, but you also want her to know that you are committed to her happiness and beauty.
Practicality Embodied
A dresser is not merely a sentimental gift; it is also a practical piece of furniture. It offers organized storage for her makeup, jewelry, and personal items, making her daily preparations more efficient and convenient. This gift showcases your attention to the details of her daily life, understanding her needs, and a willingness to create a comfortable and convenient environment for her. The storage functionality of the vanity table allows her to easily find the items she needs and maintain a tidy and organized personal space. This practicality demonstrates your care and concern for her and highlights the importance you place on her daily life.
Creating Lasting Memories
A vanity table is not just a piece of furniture; it represents love and care. Each day, as she sits at the vanity table, preparing herself for the day ahead, it evokes deep emotions within her. The vanity table becomes a symbol of cherished memories, reminding her of your love and thoughtful gestures. These beautiful memories become an integral part of your relationship, serving as a reminder of your profound affection and continuous care. Gifting a vanity table is a symbolic way to express your willingness to invest time and effort into creating a beautiful life for her.
So why not invest your money in the right place and let your beloved feel your love and care? Every time she uses the vanity table, it will create beautiful memories, reminding her of your deep affection and continuous thoughtfulness. A vanity table is not just a gift; it is a way to express emotions and show your appreciation and support for her.
Vanity tables are not only suitable as gifts between lovers but can also be given as a coming-of-age gift to your daughter. She will be delighted to feel the love from her parents, and it will become a significant milestone in her journey of growth, representing the support and expectations for her bright future.
If you are looking for a high-quality, beautifully designed, and cost-effective vanity table, we welcome you to visit our website, Caroeas. We offer a wide range of styles and designs to meet the needs of you and your loved ones. We are committed to providing excellent products and outstanding service to ensure your shopping experience is enjoyable and satisfying. At Caroeas, we believe that everyone deserves to have a beautiful and personalized vanity table that adds a unique charm and warmth to their daily lives. Step into our store and let us help you find the perfect vanity table, creating unforgettable gifts for your beloved.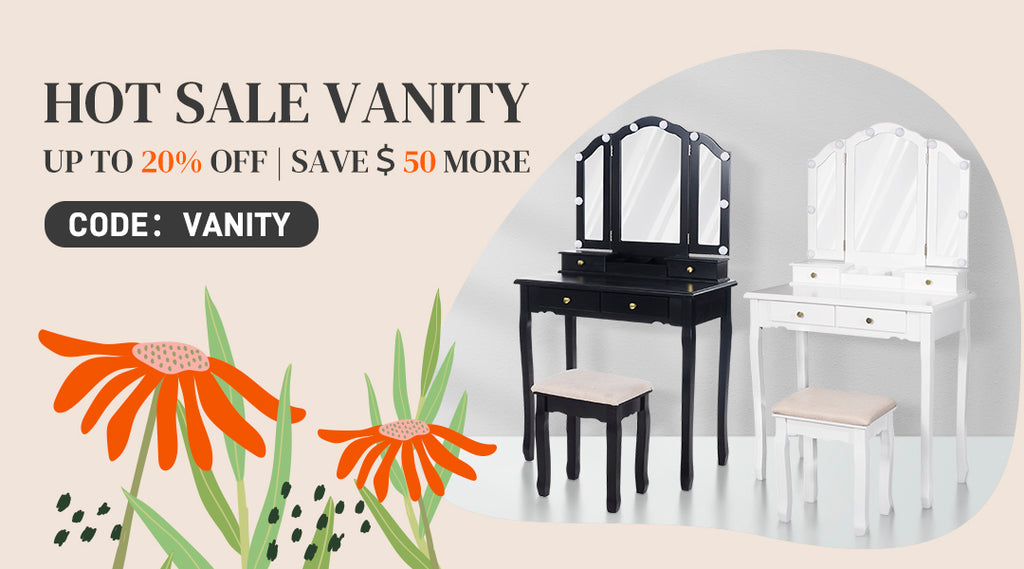 Tags
---
, by fuSofia

Have Yourself a Merry Little Christmas - Starting with the Christmas Decoration.

, by fuSofia

Embrace Beauty and Self-Care with Caroeas Vanity Table | Caroeas

, by fuSofia

Where to buy makeup vanity with lights? Caroeas' "Vanity Set Sale" Will Tell You! | CAROEAS